Become a product tester at Toluna.de
Toluna is an online community and an opinion research portal where the user can participate in paid surveys and product tests. For participating in surveys, members receive a certain number of points credited to their account. These points can then be paid out in the form of vouchers or cash.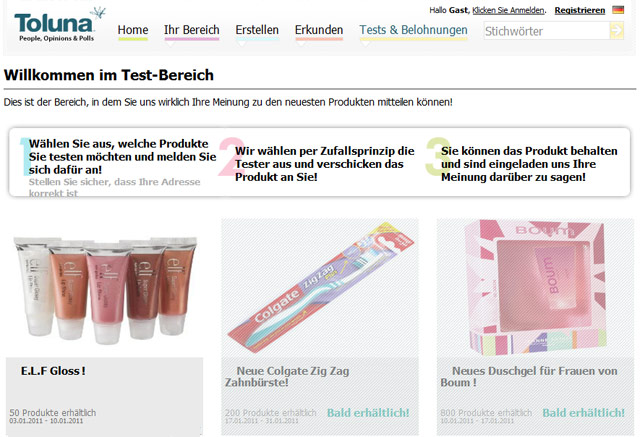 Rating:




Register for free
Toluna.de in comparison
Try products for free
Toluna.de offers the site the opportunity to take part in product tests. There are no restrictions on the products to be tested. In the specified period, as a Toluna member, you can apply for a product test. Every applicant has the same chance of being selected as a tester. P>
To register as a product tester, click on "Tests and rewards" in the main menu, then on "Product tests" and simply register by clicking on Participate. For example, you could currently test a home cinema system (4 pieces available) or make-up removal wipes (1000 pieces available). The positive thing is that you can often keep the tested products afterwards and get them delivered to your door. At Toluna.de, one expects the selected product testers to take part in every survey on the product. The negative aspect of the whole, the assignment of products is done by a draw. So you have to be a bit lucky.
As a selected member you will receive the product to be tested and may keep it. Naturally, feedback is expected to be sent to Toluna afterwards, which will then be forwarded to the company involved. In addition to the above-mentioned earning opportunities, Toluna.de also offers a community through which users can exchange information about products and other things. You can form your own opinion and publish this opinion via Toluna.de.
Registration at Toluna.de
If you want to join Toluna.de, you have to register. After registration, the new member will receive his personal access data by email. When you log in as a member for the first time, you are asked to create your personal profile. There, some information about the person is completed and then asked about his tendencies in relation to general products. This procedure takes about half an hour and is easy to understand and work through thanks to the good menu navigation.
After the Registration you have to fill out the interests in the profile, sit back and wait for the first paid surveys. You can also answer thematic surveys on the topics of health, career, shopping, travel, etc. For every topic that you answer, you get 300 points credited to your account. If you answer all thematic surveys, an additional 2,000 points are added to the account as a bonus.
Paid surveys and polls
A special feature of Toluna.de are the quick votes polls, in which the member of the community has to answer a short question and thereby earn between 15 and 120 points. These quick votes are not sent to the member by email, they are listed on the website, visible to all members. Surveys on certain products are carried out according to given answer options and made available to Internet users. These quick votes are limited in time so that all responses must be made within a certain period of time. After the quick vote, the answers received will be evaluated. For every user who took part in a quick vote, 300 points are credited to the member. And if the quick vote has been successfully completed, members will receive another 2000 points as a one-time bonus. This is ideal for people who travel a lot on the Internet and have a large circle of friends in various online communities.
Answering a quick vote can entitle you to participate in a paid survey and thus make it possible. A survey can even earn up to 15,000 points. Even without answering quick votes, you can take part in surveys at Toluna.de. Filling out the profile page increases the likelihood of being selected for a survey. The community member receives an invitation for paid surveys. Surveys are also available for filling out the profile page, via which the user provides important data for surveys.
Remuneration and Payments
For a survey that takes about 20 minutes, you get an average of 1800 points, whereby a payment to the bank account is only possible from 100,000 points (25 euros). Of course you can also exchange the points received. Starting at 500 points you can "buy" a ticket, which you can then use to enter the Toluna competition. In order to increase his chance of winning, it is possible to buy several tickets. A monthly payment of € 5000 will then be made. These are then made up as follows: 1x € 2,000 in cash, 1x € 1,000 in cash, 1x € 500 in cash, 2x € 150 in cash, 3x € 100 in gift vouchers, 12x € 75 in gift vouchers. 80,000 points can then be exchanged for vouchers from the specified companies (e.g. Douglas or CD WOW). These vouchers are worth € 20. From 100,000 points, a transfer to your own account is possible. 100.00 points correspond to an equivalent of € 25.
Create your own online surveys
As an additional option, Toluna.de offers its members the creation of opinion polls. Members can create open surveys and integrate them into their website. All points earned are then credited to the Toluna.de member account. You can also register as a product tester at Toluna.de. Members can thus receive various products free of charge, which they then have to test and evaluate if necessary within a certain time. This way, members can enjoy products that they can often keep after a successful test.
Our Rating
Rating:




More Infos