Experiences with paid surveys from Meinungsstudie.de
Opinion study is an opinion poll portal, in which every registered user has the opportunity to earn a little extra income through paid surveys. Opinion study is a member of the professional association of German market and social researchers e.V. and the European Society for Opinion and Market Research.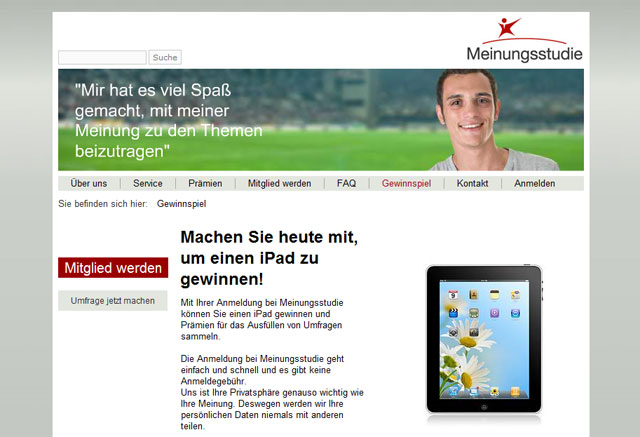 Rating:




More Infos
Meinungsstudie.de in comparison
General information about Meinungsstudie.de
Meinungsstudie.de belongs to the company Research Now and is a renowned market research institute in Germany. Meinungsstudie.de creates market analyzes and questionnaire surveys for various companies. Membership of opinion poll is free and non-binding. So there is no obligation to accept the invitation to participate in a survey. P>
How online surveys work
If you are interested in paid surveys, you can register at Meinungsstudie.de at any time. Everyone can take surveys immediately after registering. Invitations to surveys are usually sent by email. By clicking on the respective survey link in the email, you can take part in the survey. The paid surveys normally take between 15 and 20 minutes. Of course there are also longer or shorter ones. The remuneration takes place according to the duration, provided that you complete the survey successfully. In exceptional cases, you may be directed to the Meinungsstudie.de website in the middle of the survey. This means either that the required number of participants has already been reached or that your profile does not meet the selected criteria. These are determined by the client of the survey, so that Meinungsstudie.de has no influence. However, the team at Opinion Study always endeavors to ensure that this happens rather rarely and that invitations are only sent to members who roughly meet the client's selected criteria. It is therefore advisable to fill out your profile completely. You may be able to take more paid surveys because your interests, etc. are known. P>
Remuneration, bonuses and vouchers
Depending on the duration of a survey, you will be credited with different premiums. The longer the survey, the higher the premium. These are accumulated in your member account until you have reached the payment limit of at least 20 euros. From an amount of 20 euros you can redeem the bonus in voucher, which you can choose freely. If only a voucher code is required, for example for Amazon.de, this will also be sent to you by email. Other vouchers, in paper format, will be sent by post. Unfortunately, there is no remuneration for Hot Topics surveys, these are only used to find surveys on your areas of interest more quickly and easily. If a survey has been completely answered, your respective amount will be shown to your member account as an "outstanding premium". This changes as soon as the survey is completely closed. You will then find the amount in "Rewards Received". If you have decided on a voucher that was sent to you by email, you can of course find the voucher code in the email. If this has been deleted by mistake, voucher codes can also be viewed in the member account under the "Rewards received" section.
You will always be credited when you have successfully and completely completed a survey. This will be marked as "pending" until the client closes the survey. This happens when the survey has reached enough participants or the period has expired. The amount is then credited as "received". As soon as you have collected a minimum amount of 20 euros, you can exchange them for vouchers. All you need to do is click on "Request your bonus now". There you can then choose a voucher of your choice. There are some that will be emailed to you almost instantly because a voucher code is enough to redeem them. Other vouchers that you need in paper form will be sent to you by post within 28 days. A cash payment or a payment via Paypal is not possible at Meinungsstudie.de.
registration and member account
Everyone, from the age of 14, has the opportunity to register at Meinungsstudie.de, because the opinions of young people are also often asked. In addition, your account can be deleted at any time if you wish. Only one membership is allowed per person. Any user who registers multiple accounts in their name is excluded from opinion polls. Therefore, you should contact opinion study if you want to register and believe that you already have an account with Meinungsstudie.de.
You can reach your member account by logging into Meinungsstudie.de. In the member area you can exchange bonuses or change your personal data. There is also a questionnaire to fill out in your member area. If this is completely filled out, the system has the possibility to assign you to the surveys more easily and to send you invitations to paid surveys according to your areas of interest.
If you have forgotten your password, just click on the link "Forgot password". A password reminder will be emailed to you within a few moments. If this is not the case, you can contact customer service. If you want to terminate your member account in the opinion survey, you will find a button in the member area that reads "Cancel membership". As a rule, the processing time for a cancellation is 3 working days. If you still receive invitations to paid surveys from us, please contact our service center so that the service staff can manually cancel you.
Sweepstakes and promotions
Every user who registers with Meinungsstudie.de automatically has the opportunity to take part in the competition. The competition takes place every 3 months, i.e. in February, May, August and November. If you register for an opinion study, you will automatically take part in the competition.
What happens to personal information?
Your personal data is safely protected at Meinungsstudie.de. Opinion studies are also subject to data protection regulations and your data will only be used for market research purposes. Under no circumstances will they be passed on to third parties. Under no circumstances will your data be used to sell you goods or distribute advertising material to you. Opinion study is also a member of the professional association of German market and social researchers e.V. and is subject to strict data protection regulations. Contact to and from opinion polls is usually made via email. You will also only receive invitations by email. In rare cases, however, the opinion study may also contact you by phone or post, for example if you have requested a paper voucher.
Summary
At Meinungsstudie.de you can register without hesitation. The survey portal offers a very high remuneration for expert surveys and is particularly interesting for voucher fans. Participation in paid surveys is free and non-binding. You can unsubscribe at any time. Meinungsstudie.de is certainly one of the interesting survey portals in Germany alongside the Unister panel and the GFK consumer panel.
Our Rating
Rating:




More Infos