Experiences with paid surveys from Ipsos.de
If you want to make money on the Internet, you should definitely familiarize yourself with the option of being paid for participating in surveys. You are invited to opinion polls, which you carry out online and are rewarded for your cooperation in various ways. The Ipsos survey portal is a very good address.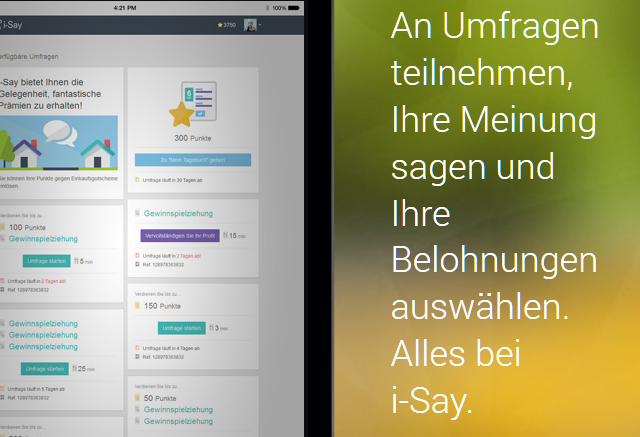 Rating:




More Infos
Ipsos.de in comparison
General information about Ipsos.de
Ipsos.de is a company that is one of the largest market research companies in the world, operates on several continents and conducts opinion surveys for its customers. These surveys serve general research purposes or examine consumer behavior. For example, when consumer opinions are raised for new products, which should then flow into product development. By participating in paid surveys, you have the opportunity to be involved in a certain way in the development and design of new products by expressing your opinion and buying behavior in the context of surveys.
Registration and participation
To participate in the paid surveys, you have to register on the Ipsos.de website. This registration only takes a few minutes, so that you can quickly benefit from being a member of this survey platform. In addition, you benefit from the fact that membership and participation in surveys is absolutely free of charge, so you can not pay money but earn money.
When registering, you have to provide one or the other personal data. In addition to name, address, age and the like, this also includes the first questions about various profiles such as household characteristics, living situation, technical details such as cell phone or Internet use and also leisure behavior. You can provide this information or not, but you should know that this data is used to find out whether you are suitable for one or the other survey. The more data you disclose, the greater the chance that you will be selected for surveys and thus for earning money. Ipsos.de is also one of the survey companies that really selects the survey participants beforehand based on the profile information provided. This may result in fewer poll invitations, but you are not sorted out according to two questions like other companies because you do not fit into the desired group of participants.
Invitation to polls
If there are opinion polls for which you are admitted as suitable, you will receive a corresponding invitation by email. In this email there is a link that forwards you to the corresponding survey. The amount of opinion polls is very different, which is also due to the fact that you only receive an invitation if you fit a survey based on your profile. With every opinion poll you can decide for yourself whether you want to participate or not. If you do not take part in a survey directly, you still have time to catch up until the survey is closed due to enough participants. If you have already deleted the invitation email at this point, you can also access surveys that are still available via the homepage in your member area. When an opinion poll has started, you can interrupt it at any time and continue it later. This is particularly advantageous for longer opinion polls, because you can also participate if you may only have a little time in between and the survey can be divided into several stages.
Remuneration for participating in surveys
For registering with Ipsos.de and successfully participating in paid surveys, you will receive bonus points as a thank you for your efforts. The points are collected on the Ipsos survey page in a personal points account and can be redeemed for cash once a certain number of points has been reached. How many points you get for an opinion poll can be found in the invitation, so that you can also use the expected remuneration to decide whether you want to participate in the poll or not.
The limit for the first payment of the collected points is 5 euros. The payment is made via PayPal or transfer to the bank details provided, which can be changed at any time. After the first payment, you can always decide whether you already have 5 euros in your credit or whether you want it to grow to 10, 20 or even more euros before you transfer it.
The current score as well as information about any open opinion polls can be found in his account on the Internet, where you can log in at any time to get this information and always be up to date. Another nice advantage of Ipsos is the fact that points do not expire if you fail to redeem them for a certain amount of time. Ipsos.de is very flexible because you can always start, pause and continue polls whenever you want. You are never obliged to participate.
raffles and sweepstakes
For taking part in opinion polls, Ipsos has lots for regular raffles as well as bonus points that you can collect on your account and redeem later. The raffles will be raffled off among all participants registered for the raffle at Ipsos.de, about which you will always be informed in the invitation to the survey. The raffles take place every quarter and every member who has successfully completed at least one opinion poll in the corresponding quarter takes part. The winners of the raffles will be informed by email so that you do not miss any winnings.
Security and data protection
After completing the entry of your registration data you will receive an email with a confirmation link to the specified address. You have to click this link to confirm your wish to participate in Ipsos.de. This ensures that no one else can register there against their will. In addition to this security, personal information is also protected against unauthorized access based on existing data protection regulations. The information only serves as a pre-selection for checking whether someone is suitable for the opinion polls. With surveys and contacts to various clients, the individual identity of all members is always kept secret.
Rating:




More Infos